Unbridled Eve Derby Gala Announces star-Studded 2023 Celebrity Guest List

Story by Kirby Adams, Louisville Courier Journal
The Kentucky Derby is nearly here and we can't wait! And it's not just the horse races and fashion we're excited about. It's all the famous people we get to welcome to the city as we communally celebrate "The Most Exciting Two Minutes in Sports."
The entire weekend of the Kentucky Derby is one big party that really gets rolling on Derby Eve at various glitzy charity balls, including the world-class Unbridled Eve Derby Gala held at the Galt House Hotel Grand Ballroom in downtown Louisville on Friday, May 5.
For a 10th year, Unbridled Eve co-founders Tammy York Day and Tonya York (yes, they're sisters), and their planning committee will roll out the red carpet — literally — for celebrities from film, television, music, comedy, and sports, including horse racing industry professionals, and influential national business leaders.
So who can we expect to walk the red carpet in 2023?
Well, the list is long but we'll dish on just a few of the celebs to get things started.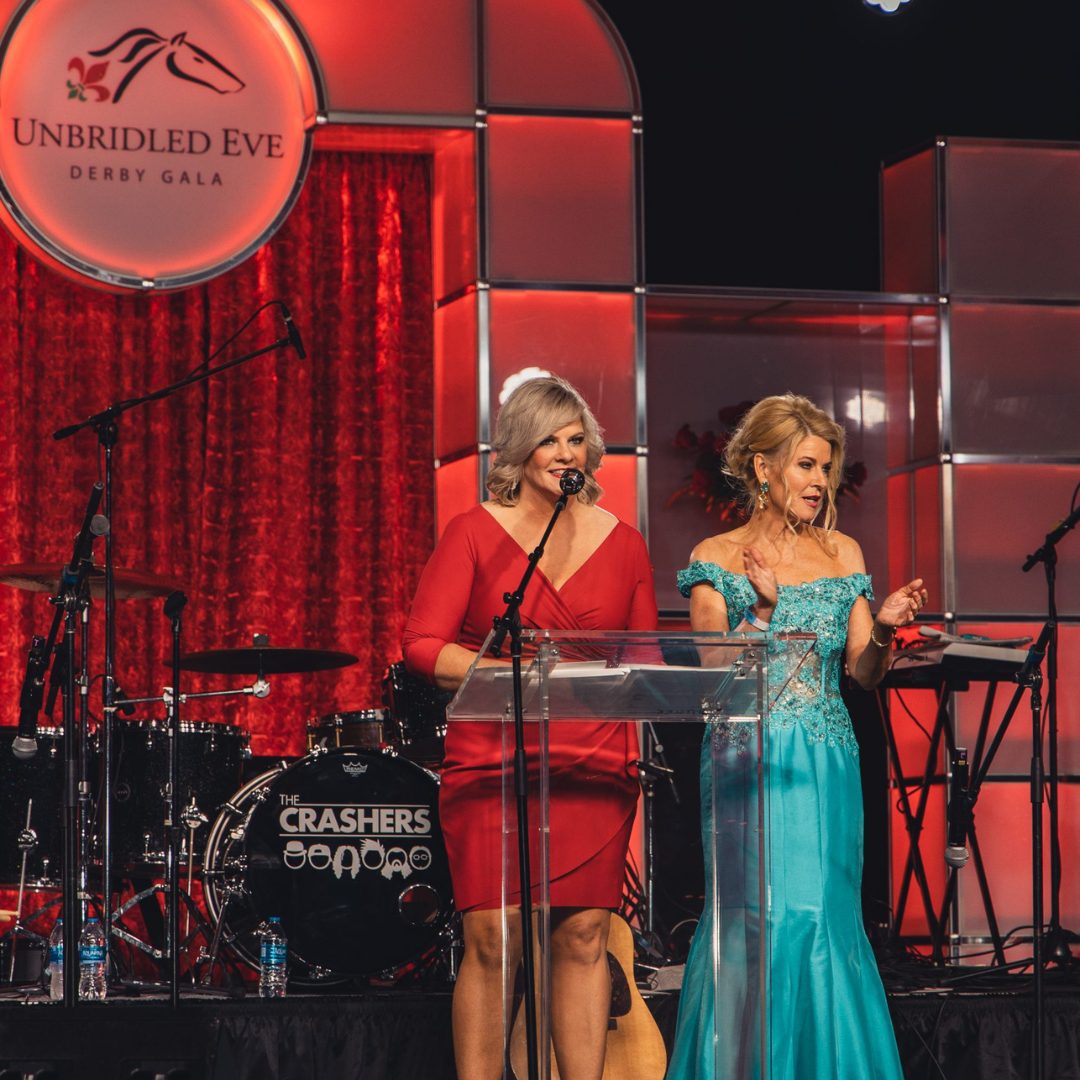 Unbridled co-founders Tammy York Day + Tonya York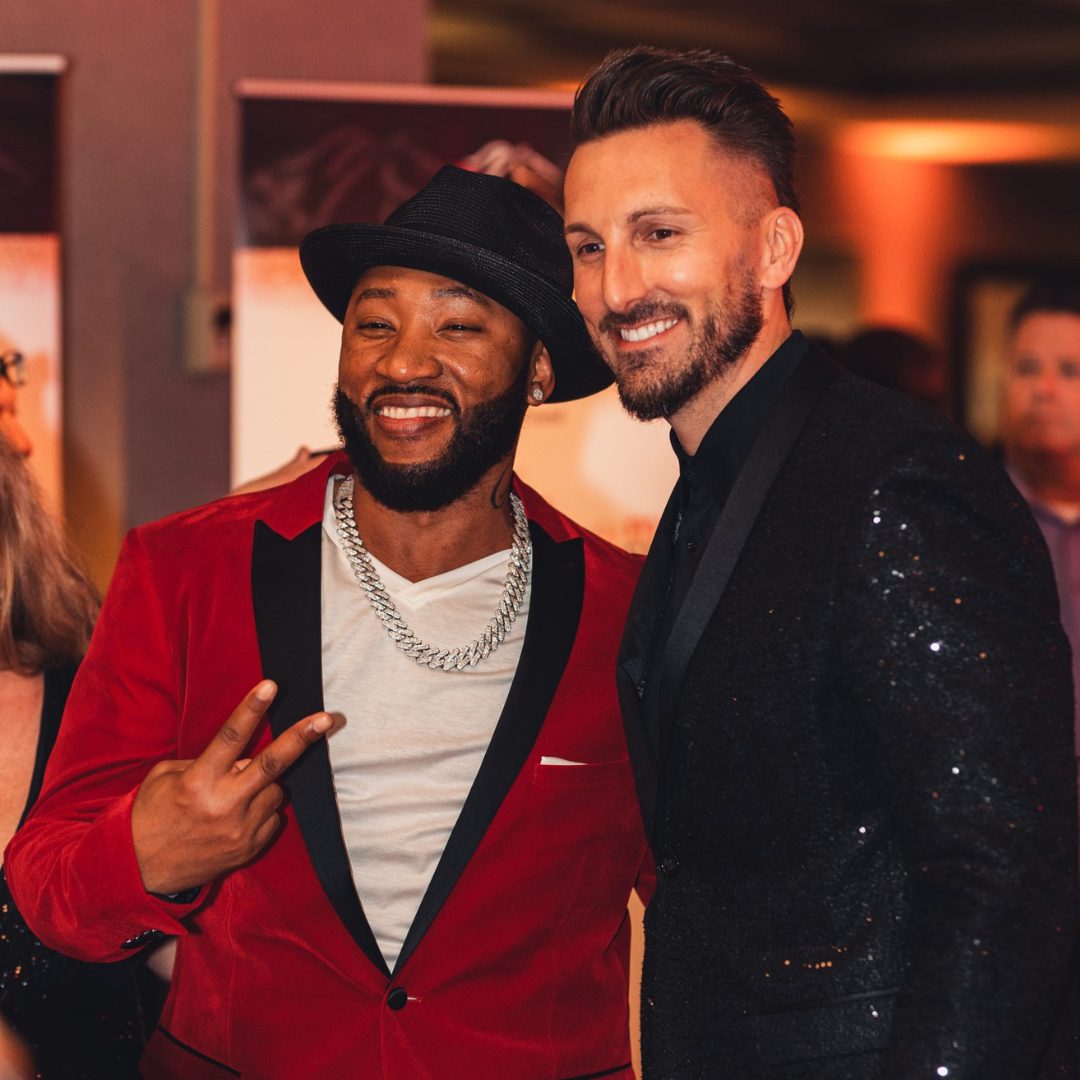 Musicians China Lacy of Linkin' Bridge and JD Shelburne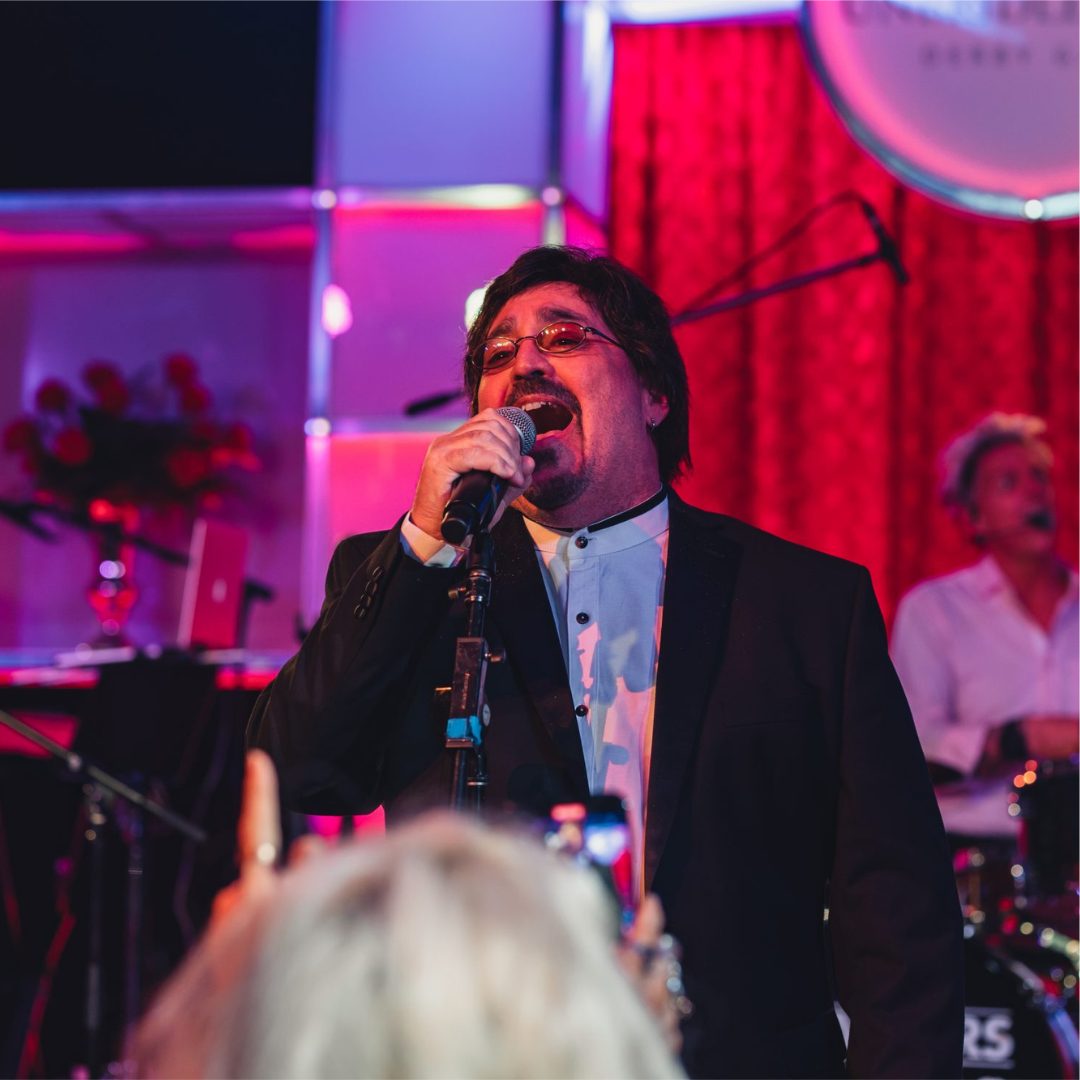 John Elefante of Kansas performs at the 2022 gala
The 2023 Unbridled Eve Derby Gala celebrity guest list includes country music superstar Randy Travis, actor D.B. Woodside ("Lucifer," "The Night Agent"), Cheap Trick frontman Robin Zander, former University of Louisville quarterback Chris Redman, singer Macy Gray, television host Chris Harrison ("The Bachelor"), former pro basketball player Lisa Leslie, rapper Percy "Master P" Miller, best selling author Nora Roberts, and dozens of other glamourous people including some of the jockeys who will be riding in the 149th Kentucky Derby.
"Unbridled has built a solid reputation on a quality guest experience and a big part is our entertainment," Tammy York Day, co-founder of the Unbridled Eve Derby Gala, told the Courier Journal. "Every year we have top performers in pop, vintage rock, hip-hop, and country. This year's lineup is a continuation of that excellence."
The elegant annual party is an Official Kentucky Derby event held the night after the exciting Kentucky Oaks and on the eve of the legendary Kentucky Derby.
"Of course, we have our Derby regulars who will be back, like Warren Moon, Bob Guiney, Bonnie-Jill Laflin, John Elefante, and Mike Mills," said Tonya York. "We have an entire group who return every year and have become a Derby family."
Between the races at Churchill Downs and the Derby Eve galas, no wonder more than a few celebrities make the trip to Louisville an annual outing. Known for southern hospitality, posh specialty bars and star-studded entertainment, parties like Unbridled Eve may be swarming with celebrities but you can buy a ticket and get in on the celebration of the Kentucky Derby, too.
Individual tickets to Unbridled Eve, which include specialty cocktails, dinner and entertainment, start at $1,110. Dance party-only tickets are $400.
Who knows, you may end up elbow to elbow with Warren Moon on the dance floor or sipping a curated cocktail like a Miami Mu11e created for the evening by E11EVEN Vodka.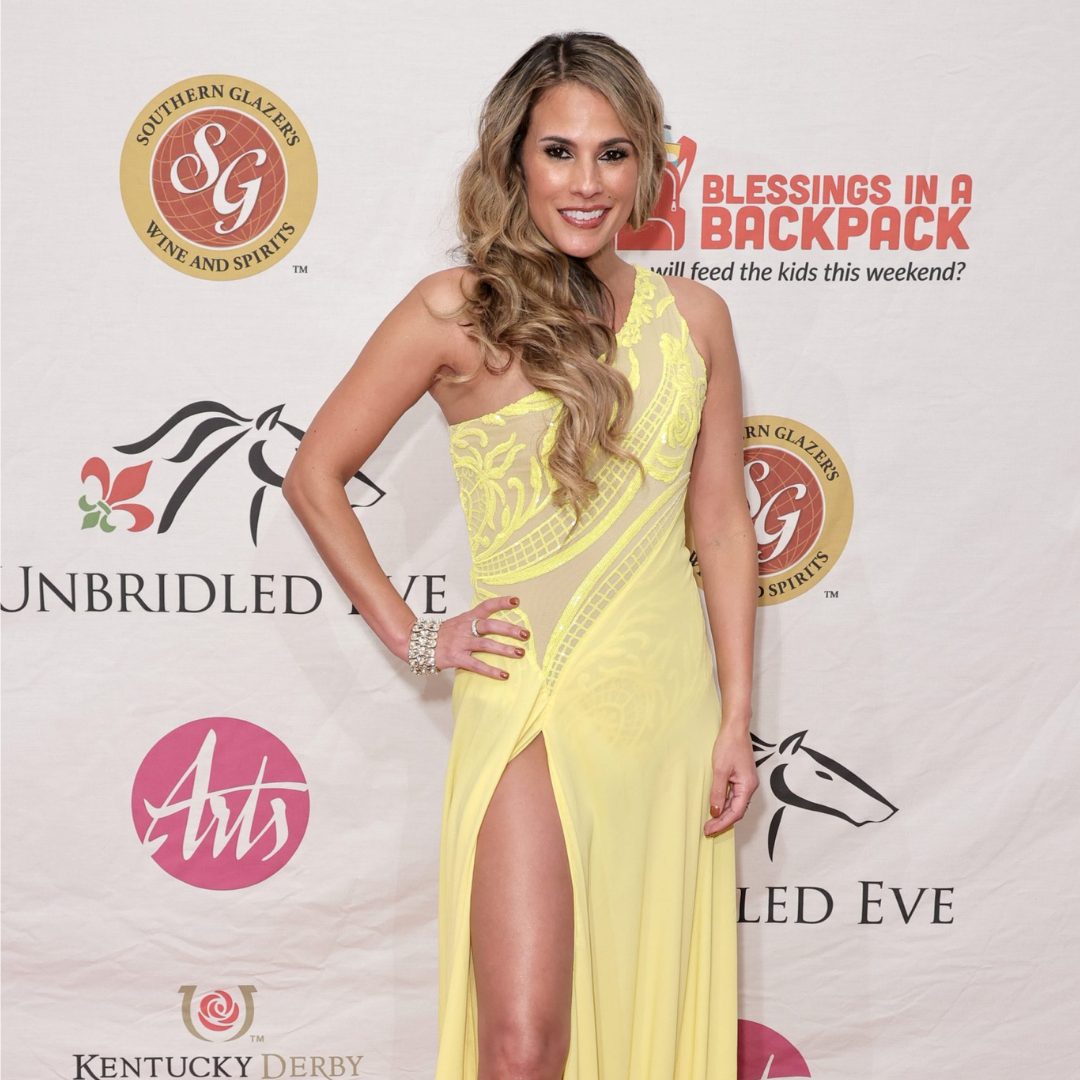 Bonnie-Jill Laflin, NBA scout and reporter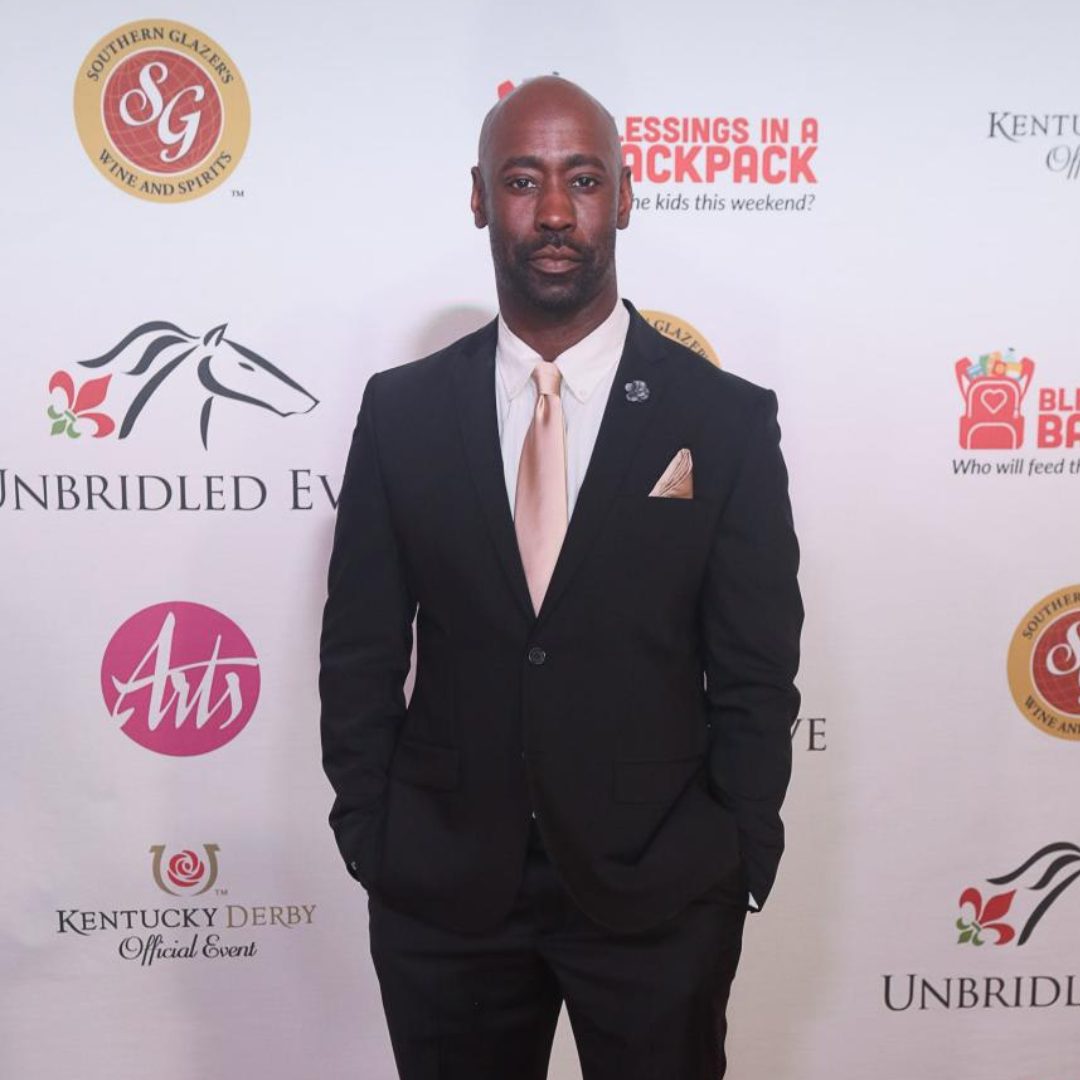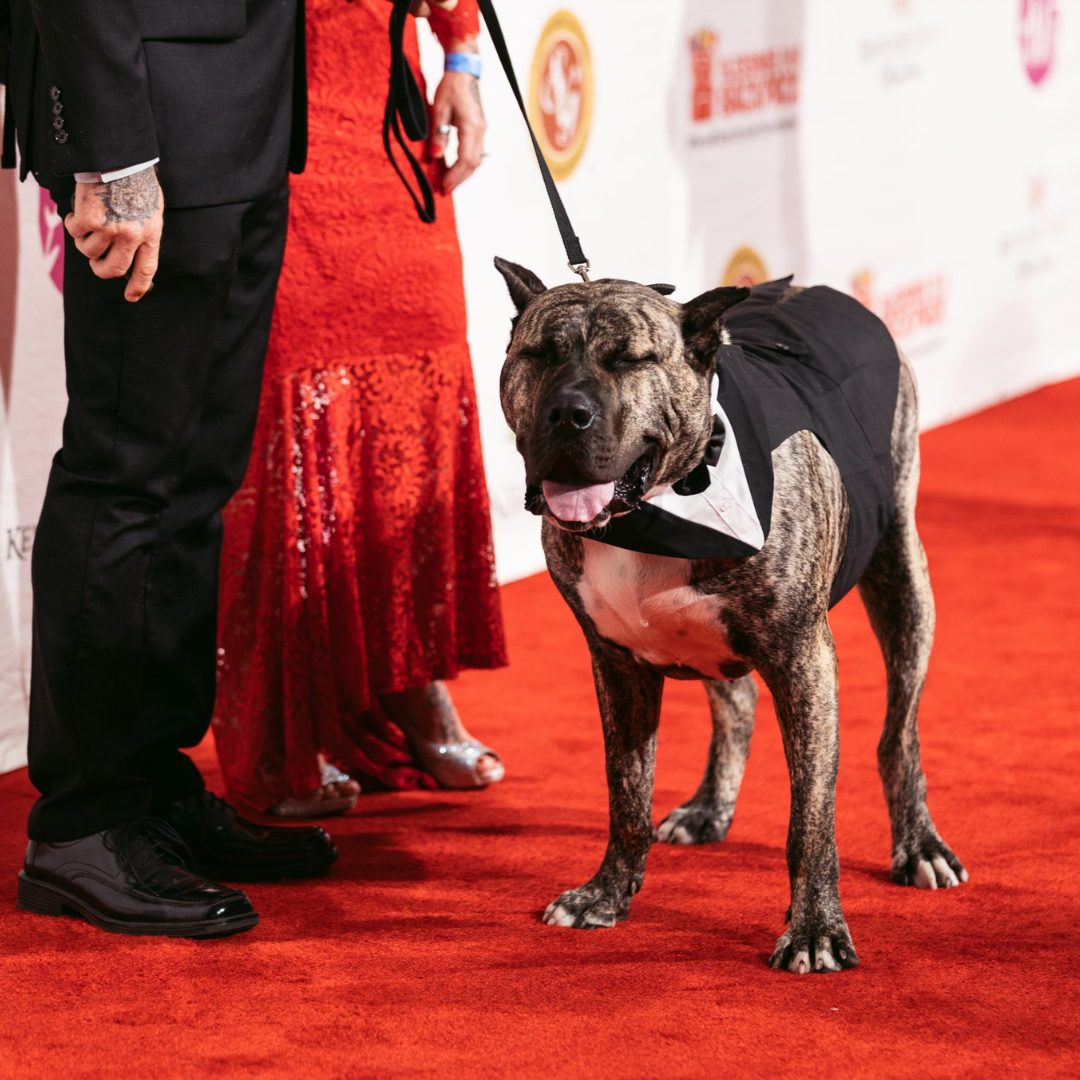 Ethan the Dog walks the 2022 red carpet
Here's everyone we know so far attending the Unbridled Eve Derby Gala ahead of the 149th Kentucky Derby:
Actors and celebrities at 2023 Unbridled Eve Derby Gala
D.B. Woodside, American actor known for "Lucifer," "24," and "The Night Agent"
Nora Roberts, New York Times' Best-Selling Author
Chris Harrison, Television and game show host known for "The Bachelor"
Tricia Helfer, American actress and former model known for "Lucifer," "Battlestar Galactica"
Jerry Mathers, American actor best known for "Leave It To Beaver"
DB Sweeney, American actor, writer, and director known for "Garden of Stone," "Memphis Belle," and "Fire in the Sky"
Brian Currie, American actor and writer known for "The Green Book," "Armageddon," and "Con Air"
Shereé Whitfield, Reality Television personality, "The Real Housewives of Atlanta"
Conrad Bachmann, American actor, stuntman and founder of the Louisville Film Arts Institute
Nick Vallelonga, Oscar-winning actor and filmmaker best known for producing "The Green Book"
Michael Colyer, American actor and comedian known for "The King of Venice Beach"
Evan Ross, American actor and producer known for "Hunger Games: Mockingjay Part 1 and Part 2"
David DeSanctis, American actor and advocate known for "Where Hope Grows"
Milan Chakraborty, Film producer and actor known for "The Lifeguard," "Where Hope Grows," and "My Friend Dahmer"
Jen Hoffman, Winner of "The Amazing Race" (2011) with her sister Kisha, an ESPN Analyst
Darnell Ferguson, Celebrity chef and co-host of Food Network's "Tiny Food Fight" and founder of SuperChefs restaurant
Bob Guiney, Television personality known for "The Bachelor," "Deal or No Deal" and the podcast: "Almost Famous: the Ogs"
Grace Stanke, Miss America 2023
Hannah Edelen, Miss Kentucky 2022
Morgan Greco, Miss America's Outstanding Teen 2023
Bonnie-Jill Laflin, Female NBA Scout, and reporter
Rob Angel, Creator of Pictionary and author
Sultan Zeshan, Writer of "Legendary Equestrians" and concept creator for Jack Harlow's Churchill Downs music video
Ethan the Dog, A rescue dog whose miraculous recovery has brought awareness to sheltered and abused animals across the country. Named "American Humane National Hero Dog of the Year"
Professional athletes and jockeys at 2023 Unbridled Eve Derby Gala
Lisa Leslie, Former WNBA Basketball Player, four-time Olympic gold medalist, and was selected for the US Olympic & Paralympic Hall of Fame in 2019
Mario Urrutia, Former American football wide receiver; drafted by the Cincinnati Bengals in the seventh round in 2008, former college football player at the University of Louisville
Warren Moon, Former NFL quarterback. Considered one of the greatest undrafted NFL players in history
Chris Redman, Former NFL Baltimore Ravens player and quarterback at the University of Louisville
Luke Hancock, Former professional basketball player for the Memphis Grizzles, Panionios, and the Louisville Cardinals men's basketball team
Michael Bush, Former NFL running back and University of Louisville football player
Mark Ingram, New Orleans Saints Pro Bowl NFL running back and Heisman Trophy winner
Aron Haddad, American professional wrestler best known for wrestling with WWE under the ring name Damien Sandow
Michael Kidd-Gilchrist, Former University of Kentucky basketball player, pro basketball player
Nadia Nadim, Professional Footballer and Physician who plays for NWSL Racing Louisville FC. Won the French league title in the 2020-2021 season with Paris Saint-Germain.
Cam Jordan, New Orleans Saints 8X All-Pro and TV Broadcaster for NBC
Akoy Agau, Former University of Louisville basketball player, owner of Derby City Distillers
Valerie Combs, First female athlete to score 1,000 points at the University of Louisville
Tim Ellis, National Football League Chief Marketing Officer
Jean Cruguet, Retired French-American jockey. Won the Triple Crown of Thoroughbred Racing
Jareth Loveberry, American jockey competing at the 149th Kentucky Derby
Julien Leparoux, French Eclipse Award-winning jockey who currently races in the U.S.
Sandy Hawley, Canadian Hall of Fame Jockey
James Graham, Irish-born jockey
Michael Manganello, Retired American Thoroughbred Jockey
Kaoru Tsuchiya-Hawley, Legendary Japanese jockey
Musicians and performers at 2023 Unbridled Eve Derby Gala
Randy Travis, Country music superstar, Country Music Hall of Fame inductee 2016, multi-Grammy Award winner
Robin Zander, lead singer of the iconic rock band Cheap Trick and Rock & Roll Hall of Fame inductee 2016
Robin Wilson, lead singer of the Grammy-nominated alternative rock band, Gin Blossoms
Macy Gray, American R&B and soul singer and actress
Rob Base, a multi-platinum hip-hop artist
Skip Martin, Grammy award winner and former lead singer of Kool & the Gang, and Dazz Band
The Frontmen: Tim Rushlow, former lead singer of three-time Grammy-nominated Little Texas, Larry Stewart, lead singer of five-time Grammy-nominated Restless Heart, and Richie McDonald, former lead singer of Grammy-winner Lonestar
Mike Mills, lead singer R.E.M.
Percy "Master P." Miller, American rapper, record producer, record executive, actor, and entrepreneur
John Elefante, Former lead vocalist of Kansas
J.D. Shelburne, Kentucky country music artist, and songwriter
The Crashers, one of the nation's best party bands
Linkin' Bridge, Louisville's award-winning singing group
DJ 2nd Nature, spinning dynamic mashups, combining modern pop and dance music
Holy Spirit 3rd – 6th-grade Choir, led by Mrs. Susan Johnston
While Travis, Mills, Gray, Master P, and Elefante have been invited to Unbridled Eve Derby Gala as celebrity guests and not performers — you never know what will happen at a Derby party!
Feature photo: The Sugar Hill Gang at performs at the Unbridled Eve Derby Gala in 2022
All pictures are courtesy of Unbridled Eve.