Students Celebrate The Kentucky Derby Early At Hawthorne Elementary

Blessings in a Backpack ­and the Unbridled Charitable Foundation partnered to create the second annual "Unbridled Afternoon" for the students at Hawthorne Elementary in Louisville, Kentucky.
As an ode to the annual Unbridled Eve Gala that occurs the evening before the Kentucky Derby and fundraises to help several nonprofits, including Blessings in a Backpack, this kid-friendly event allowed students to experience their own Derby events — many of them for the first time.
"Last year's 'Unbridled Afternoon' was such a success that we couldn't wait to partner for this special event again this year," said Nikki Grizzle, chief marketing officer, Blessings in a Backpack. "The purpose of this event was to allow kids to just be kids for an afternoon and experience the excitement that many of us in Louisville feel this time of year. We are so thankful to the Unbridled Charitable Foundation, and all our community partners who helped organize a day that Hawthorne Elementary students will never forget."
"Unbridled Afternoon" included a slew of Derby-related activities, starting the morning of the event with Steve Buttleman, the official bugler of Churchill Downs and Keeneland, greeting the students and performing the "Call to the Post" over the school's intercom system. At lunchtime, the students were treated to an appearance by the 2023 Kentucky Derby Festival Royal Court, including Hayley Benson, Mallory Hudson, Mahshad Taheri, and Valerie Tran, to get them excited for the afternoon.
Students were given one-of-a-kind, Derby-style commemorative tickets as a keepsake of the event and received the full celebrity treatment as if they were attending the actual Unbridled Eve Gala. They posed for pictures in front of Derby-themed artwork made just for their school by Louisville artist and Jefferson County Public Schools (JCPS) graduate Molly Rhode of PatienceGracePaints.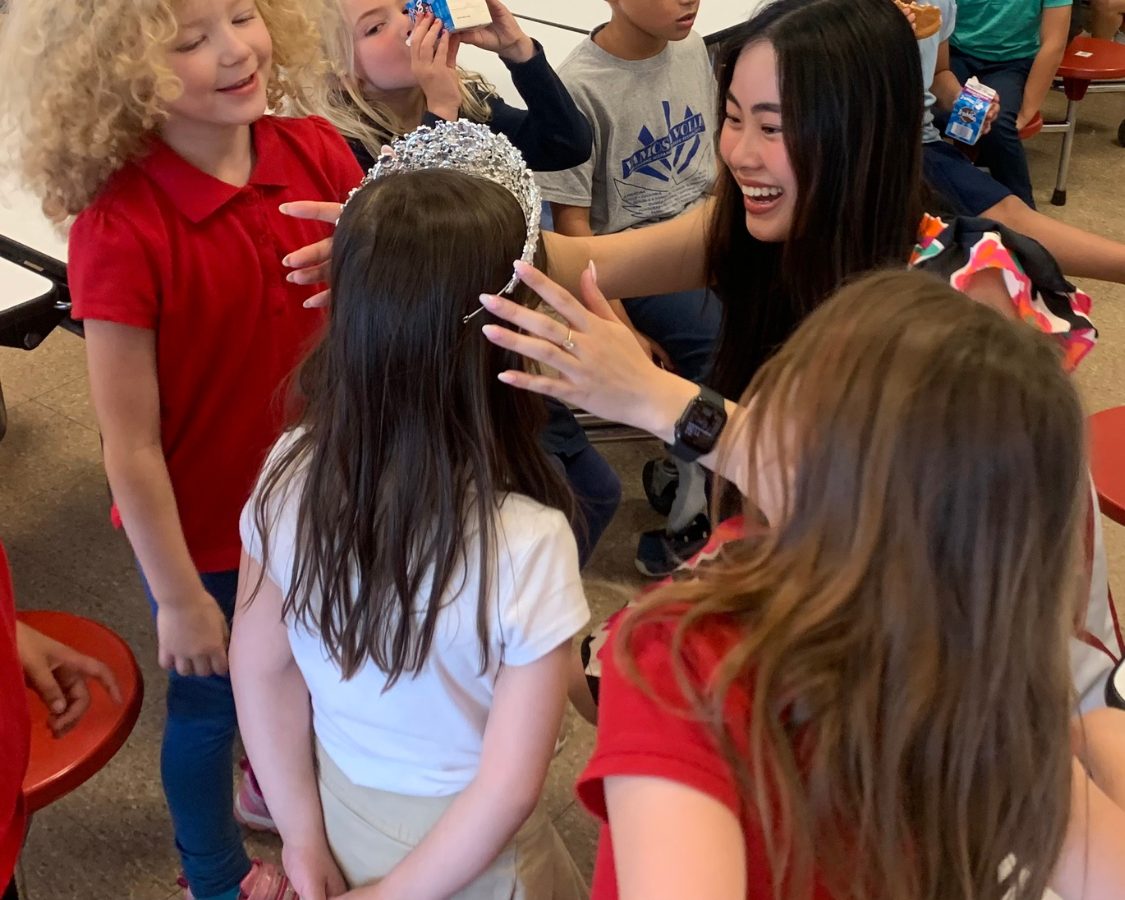 Derby Princess Valerie Tran shares her crown with a Hawthorne student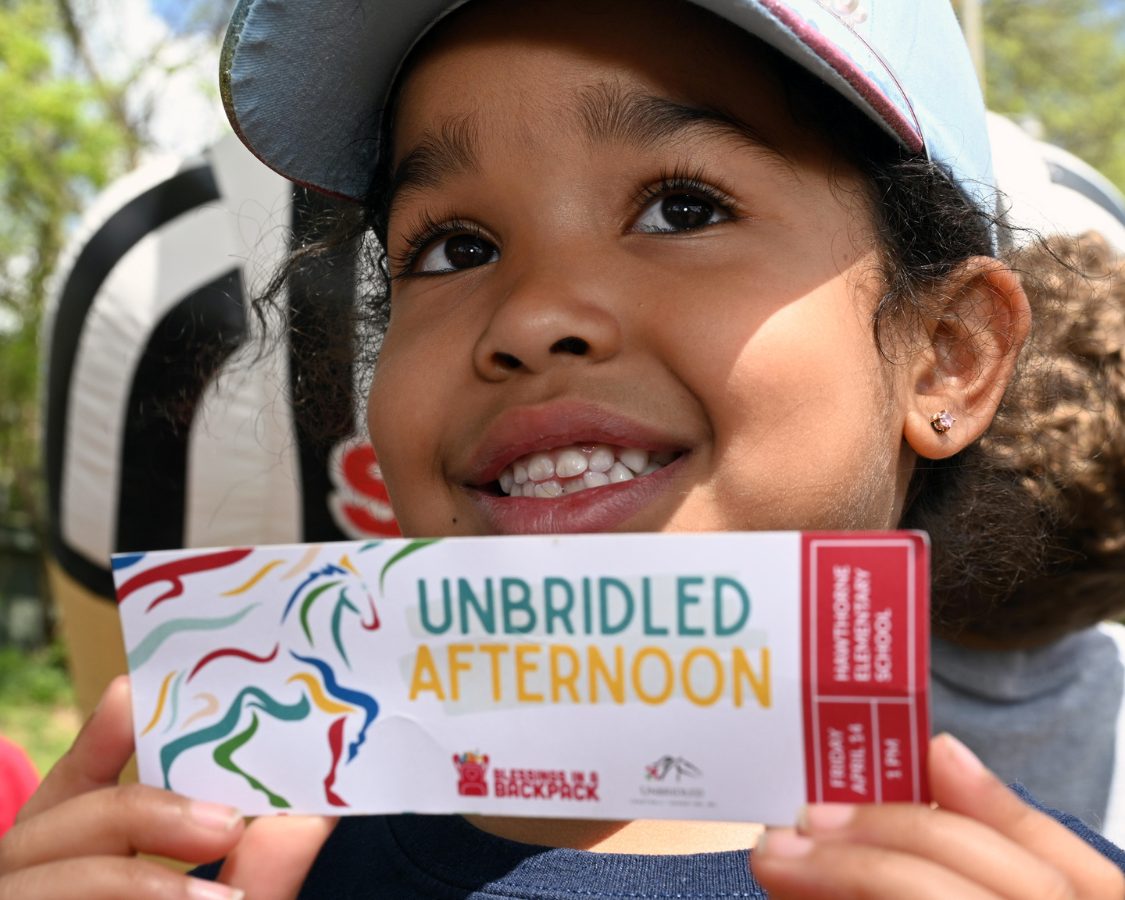 Student shows off her Unbridled Afternoon ticket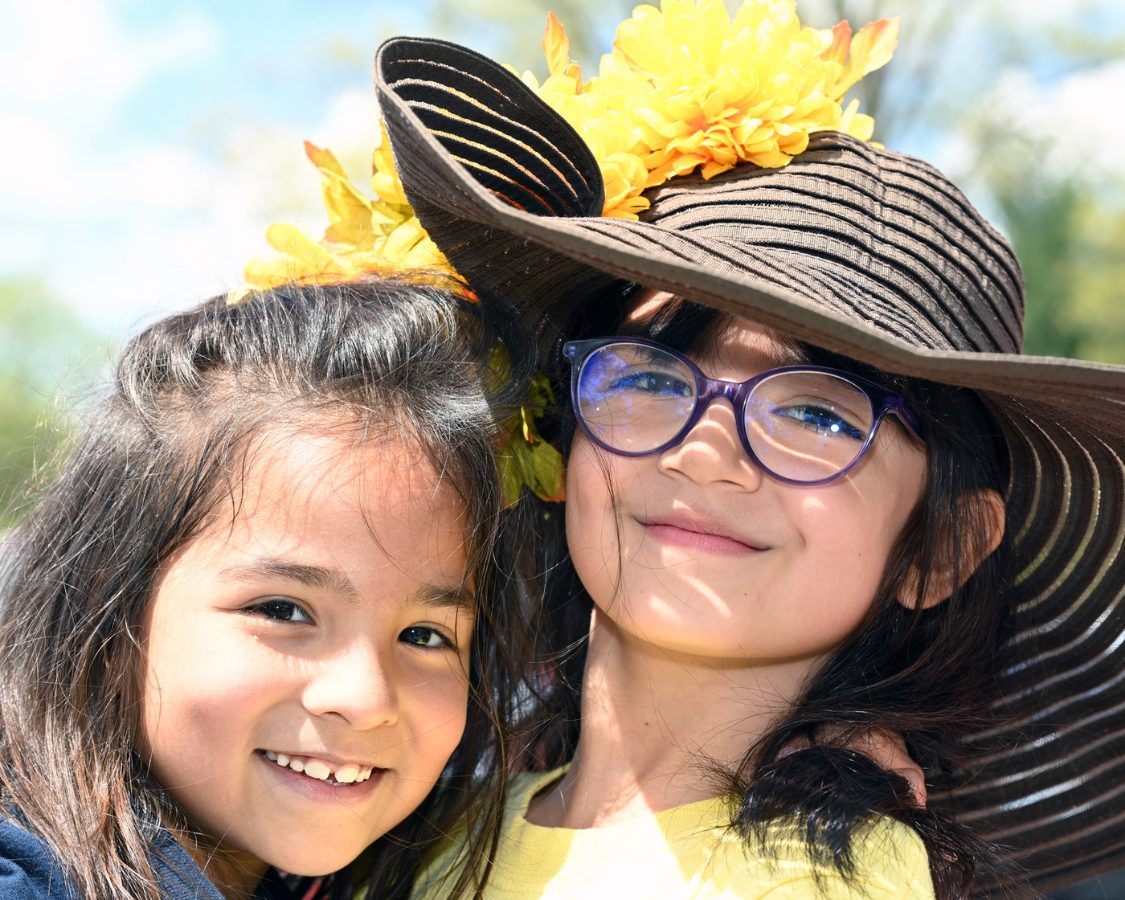 Many Hawthorne students wore Derby hats
The children also got to meet local celebrities!
Local celebrities in attendance included former University of Louisville (UofL) basketball player Akoy Agau and his Derby City Distillers team, 2021 Kentucky Derby Festival Queen Gia Combs, former UofL basketball player Valerie Combs, Bellarmine Men's Basketball Coach Scott Davenport along with players Landin Hacker, Langdon Hatton, Curt Hopf, Zac Jennings, Zach Reed, Eli Roberts, Pete Suder and Bash Wieland, retired jockey and winner of nine Triple Crown races and 12 Breeders' Cup races Pat Day, Racing Louisville player Emina Ekic, JCPS Superintendent Dr. Marty Pollio, LouCity players Ray Serrano and Jordan Scarlett, and former UofL and NFL football player Mario Urrutia.
Additionally, students met beloved local mascots, including Churchill Charlie from Churchill Downs, Tapper from the Louisville Water Company, Wally the Walrus from LRS 102, and additional mascots from the Louisville League of Mascot – Bubbles from Goldfish Swim School, Max the balloon man from RE/MAX, Sporty from Sports Clips, Subman from Subway, and Sudz from Great Clips.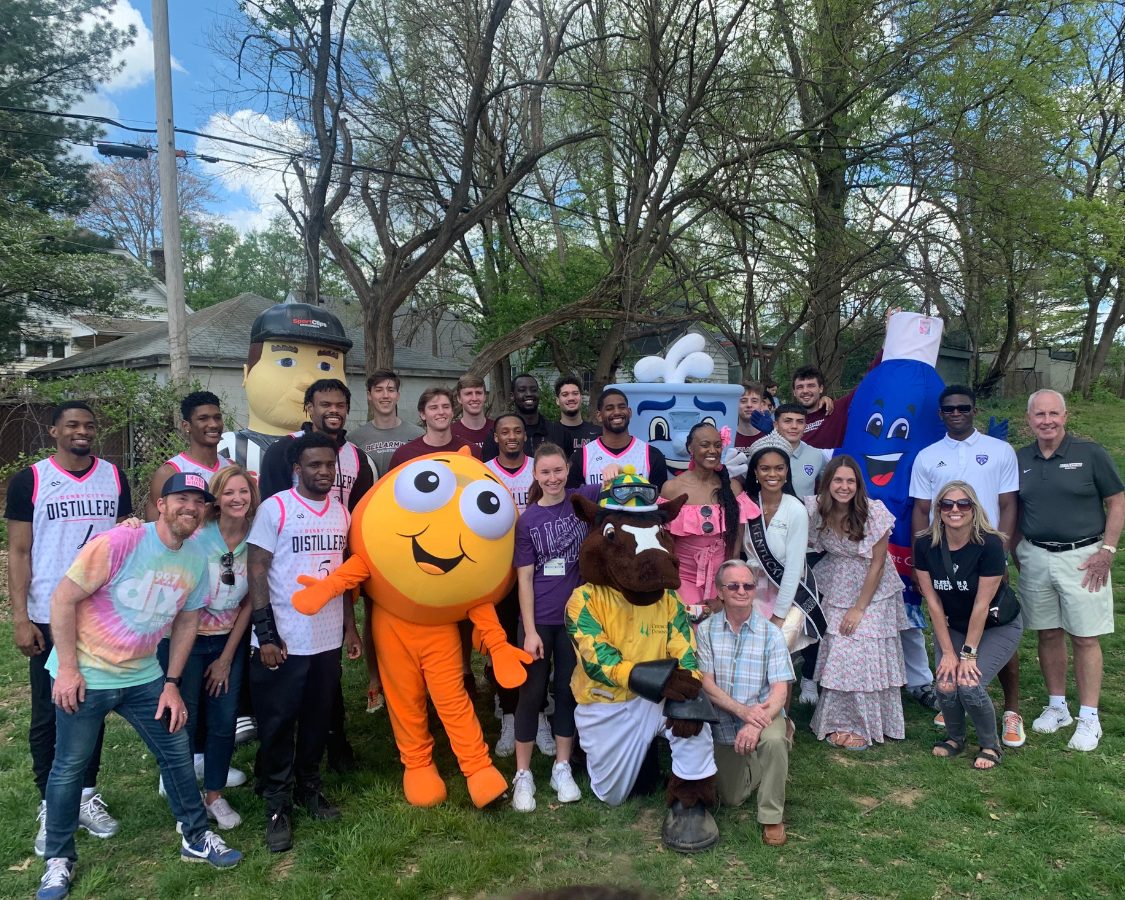 The Derby-themed fun continued for Hawthorne students throughout the afternoon . . .
They visited a horse in a petting area, saw a hot air balloon up close in honor of the Balloon Glow, checked out the Zoeller Pump Company's "Zambulance," as seen in the touring Pegasus Parade, and received a special treat courtesy of Heitzman's Traditional Bakery and Deli. The excitement grew when students got to cheer on their teachers during a stick-horse race called by Louisville radio personalities Kelly K and Ben Davis of 99.7 DJX. All participating teachers were entered into a drawing to win two tickets to the Unbridled Eve Gala courtesy of the Unbridled Eve Foundation, and a $200 VISA gift card.
"We were thrilled to partner with Blessings in a Backpack for the second consecutive year to put on this fun Derby-themed event," said Tonya York Dees, co-founder of the Unbridled Charitable Foundation. "Seeing the joy on each student's face as they experienced these once-in-a-lifetime events was unforgettable."
"This event is all about having fun and celebrating Louisville's biggest day, and we are already looking forward to the next 'Unbridled Afternoon' and spreading more excitement of the Derby season across another local elementary school," said Tammy York Day, co-founder of the Unbridled Charitable Foundation.
49.78% percent of students at Hawthorne Elementary depend on the Blessings in a Backpack program, and bags of food from Blessings in a Backpack have been given to Hawthorne students every school weekend for three years.
Unbridled Charitable Foundation and Blessings in a Backpack plan to hold this event annually at different elementary schools in the Louisville area.
Thank you to the sponsors of this year's event: Heitzman's Traditional Bakery and Deli, RE/MAX Properties East/Keren Benabou, and Zoeller Pump Company.