Inside the Organization that Got a $25,000 Donation From Lamar Jackson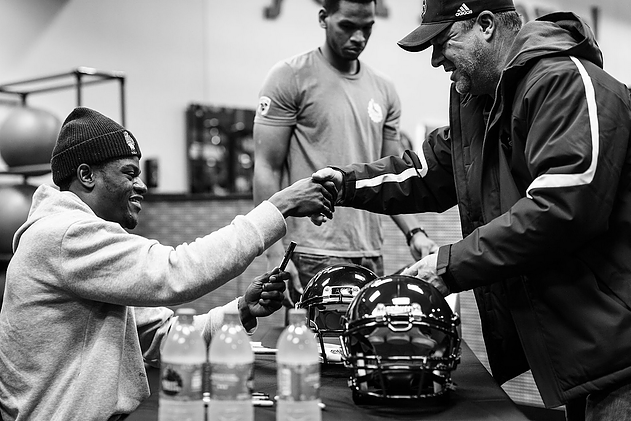 Original story posted on January 25, 2018.
Lamar Jackson's generous gift of $25,000 helped Blessings in a Backpack start a new program at Wheatley Elementary School in Louisville, Ky.
Story by Kayla Moody, WHAS11 News Louisville
Tucked away on a dimly lit stage at Engelhard Elementary, boxes of food tower over Regina Jackson-Willis as she sorts through the new deliveries.
"They love these," Willis said with a smile as she grabbed a package of Slim Jim beef jerky. "These usually don't make it home."
Part of Willis' job as Family Resource Center Coordinator is removing non-academic barriers that prevent students from doing well in school. Located in the heart of Smoketown, hunger is a major barrier for students and their families.
"Our whole neighborhood is a food desert," Willis said. "We don't have a grocery store nearby and we have families who struggle."
Willis raises enough money every year to feed all 400 students at the school through Blessings in a Backpack, a Louisville-based charitable organization that sends food home with students on Friday to help them get through the weekend. Students who are eligible for the free and reduced lunch program qualify for Blessings in a Backpack.
"Oftentimes when the kids leave school on Friday they have nothing to eat until they return to school on Monday, so Blessings in a Backpack helps fill that gap," explained Kim Holsclaw, managing director of the organization's Louisville chapter.
The organization currently feeds 4,300 students weekly in Louisville. While Holsclaw acknowledged that may seem like a lot, she said it only satisfies a fraction of the need because a whopping 64,000 children qualify for the program within the Jefferson County Public Schools system alone.
Blessings in Backpacks largely relies on private monetary donations and corporate sponsorships to fund its weekly food program. Former University of Louisville star quarterback Lamar Jackson recently donated $25,000 to the charity. He collected the money during a series of autograph appearances at Planet Fitness.
"That's going to feed 250 children for an entire school year. That's 38 weeks that they'll be fed," Holsclaw said.
It costs $2.36 a week to feed a child through the program. Holsclaw said any donation, big or small, stays in Louisville to help prevent local kids from going hungry.
At Engelhard, students line up on Fridays to fill their bags with food. Willis typically sends students home with six to seven items a week.
"I work really hard because I don't think any child should ever be hungry," Willis said. "To see their faces when they go through the line when they get their food – they call it their 'blessings' and they look forward to it. It's very beneficial to our students at Engelhard."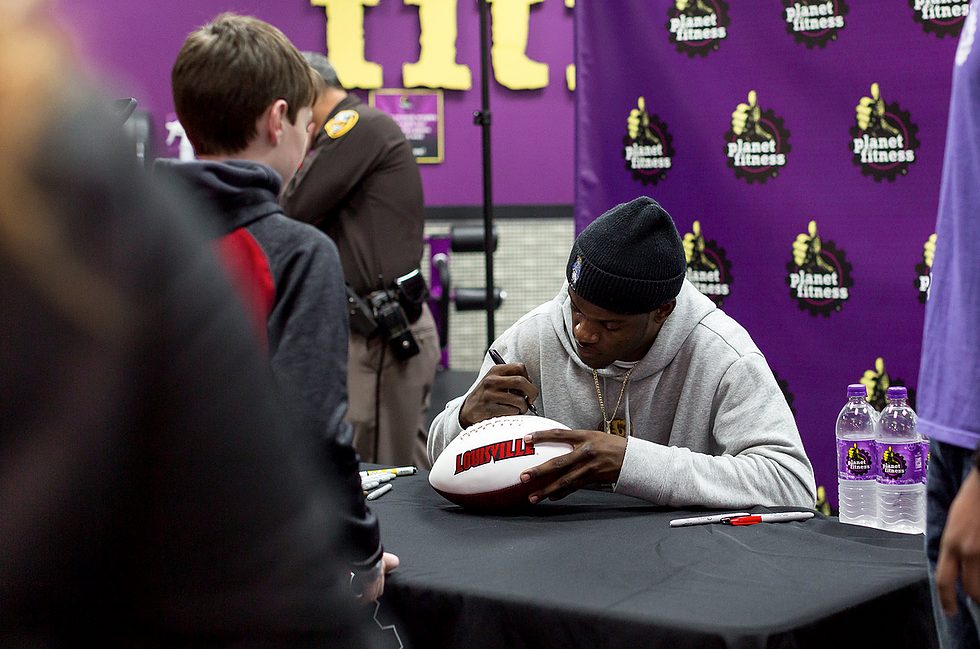 Lamar Jackson signed autographs for fans at Planet Fitness in Louisville, Ky.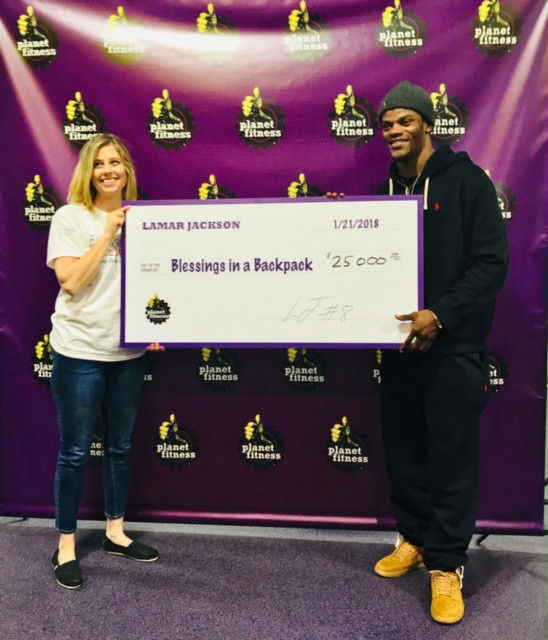 Lamar Jackson presented a $25,000 donation to Blessings in a Backpack's Chief Marketing Officer Nikki Grizzle.