Golden Ticket Raffle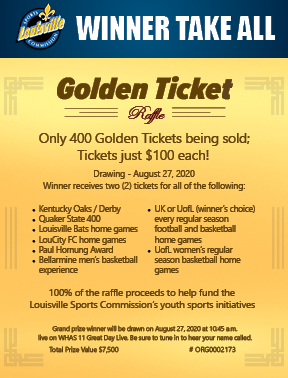 After pausing ticket sales in accordance with Governor Andy Beshear's temporary directive to suspend all charitable gaming initiatives, the Louisville Sports Commission (LSC) is once again selling its Golden Ticket raffle.
The raffle provides one lucky person two tickets to nearly every major sporting event on the local calendar – including the Kentucky Oaks and Derby, and every home game for UofL or UK football and basketball, winner's choice – with proceeds from the ticket purchase funding the Sports Commission's youth sports initiatives. If any of the events should be cancelled or postponed, the winner will receive tickets for the event on the postponed date or the next season's event(s).
Tickets are $100 each; $20 of each ticket purchased will be donated to Blessings in a Backpack!*
The winner will receive two (2) tickets for all of the following:
2020 Kentucky Oaks
2020 Kentucky Derby
2020 Bellarmine Men's Basketball Experience
2021 Quaker State 400 at the Kentucky Speedway, Bluegrass Club
2021 Louisville Bats home games
2021 Louisville City FC home games
2021 Paul Hornung Award Banquet
2020–2021: Your choice of regular season football and basketball home games for either the University of Louisville or the University of Kentucky
2020–2021: Regular season basketball home games for the University of Louisville women's team
The LSC is a non-profit organization that attracts sporting events to the community and promotes active lifestyles.
"Our Golden Ticket raffle supports a worthy cause and a provides players a chance to win the ultimate sports experience with tickets to the best sporting events in Kentucky," said Karl F. Schmitt Jr., LSC president & CEO. "With the delay in spring and summer sporting events, we believe this prize package provides something for everyone to enjoy."
"Even if sporting events are delayed, cancelled or postponed, the winner will receive tickets to all of the events in the prize package either this year or next year," said Schmitt
A total of 400 tickets will be sold at $100 each. The Grand Prize winner will be drawn on Aug. 26, 2020, on WHAS-11 Great Day Live. The winner does need not to be present to win.
Click here to buy your Golden Ticket online, or go to https://kyexpo.org/golden-ticket/. *Be sure to write "Blessings in a Backpack" in the drop down "where did you hear about…" on the ticket page.